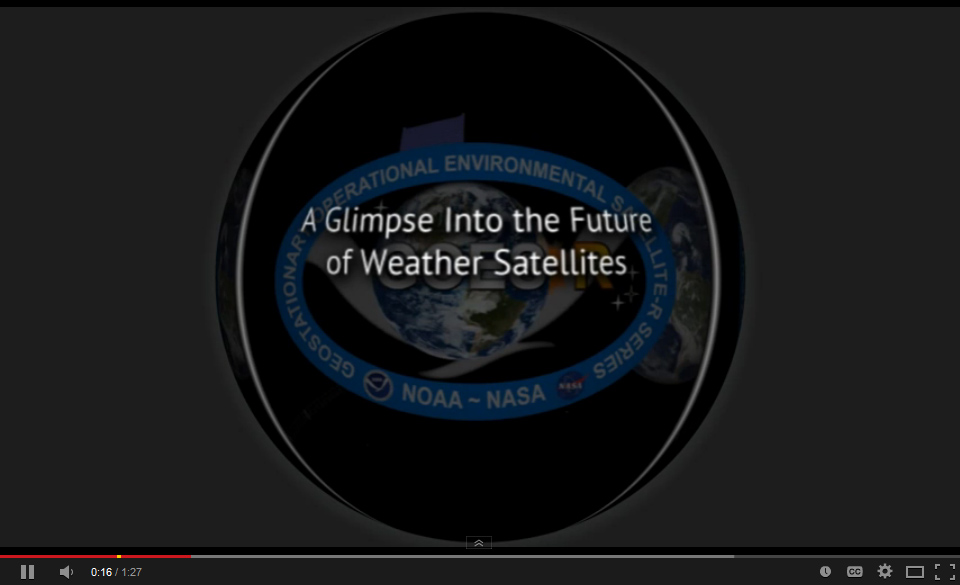 Overview
The first satellite of the Geostationary Operational Environmental Satellites – R Series (GOES-R) is scheduled for launch in March 2016! There are many exciting improvements on the way and this short video introduces and demonstrates two of them:
Advanced Baseline Imager (ABI)
The GOES-R ABI will have 16 spectral bands, (compared to 5 on the current GOES Imager), resulting in three times more spectral information and four times the spatial resolution. The frequency of images, or temporal coverage, will be more than five times faster than the current GOES! This video shows 1 minute (super rapid scan) data from the GOES-14 satellite which emulates the improved temporal resolution planned for the ABI.
Geostationary Lightning Mapper (GLM)
The all new GLM on GOES-R will measure total lightning activity continuously over the Americas and adjacent ocean regions with near uniform spatial resolution of approximately 10 km! This video shows a simulation of this capability using the 1-minute imagery.
More information on GOES-R can be found at http://www.goes-r.gov/
Additional educational resources, including lesson plans developed by middle and high school science teachers, can be found at http://cimss.ssec.wisc.edu/education/goesr/
If the mp4 movie isn't already in you SOS system in the EarthNow category, you can download the datasets and playlist files from this FTP Site.  Just download and use playlist files at the top of the page (or create your own) and make sure they are in /home/sosrc or /home/sosrc.
Credits: