Overview
The seasonal global land and ocean temperature for June–August 2017 was the third highest since global records began in 1880. The average temperature across the land surfaces was 2 degrees Fahrenheit above the 20th century average, the second highest June–August period in the 138-year record, slightly cooler than summer 2016.
The ocean surface temperature tied with 2015 as the second warmest summer season on record.
The United States had it's fifteenth (15th) warmest and sixteenth (16th)  wettest summer in 2017.
Two very significant phenomena took place this past summer, first the "Great American Eclipse" which occurred on August 21st when the moon passed directly between the sun and Earth causing a total solar eclipse. Satellites saw the moon's shadow glide across the United States from Oregon to South Carolina!
A week later tragedy struck when Hurricane Harvey made landfall in Texas. The slow moving storm dropped torrential rains across northeast Texas and southwest Louisiana. Record rainfall led to unprecedented flooding in Houston and surrounding areas. Tens of thousands of people were displaced due to floodwaters with thousands of homes and businesses destroyed. At least 70 fatalities were blamed on Hurricane Harvey
The quarterly climate digest, produced seasonally, consists of a short movie (3:24 minutes) made for SOS and an MP4 video accessible through YouTube.
NEW! A Spanish language version is also available on YouTube!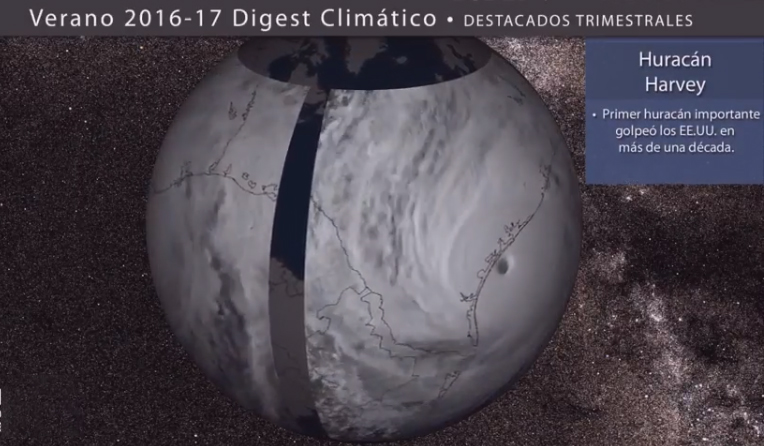 You can download the SOS content (both versions) from this FTP Site.
Content includes:
Global 3-month land temperatures
3-month Sea Surface Temperature (SST) anomalies
GOES-16 animation of the August 21 total solar eclipse
GOES-16 animation of Hurricane Harvey making landfall (preliminary-non-operational data)
References:
https://www.ncdc.noaa.gov/sotc/global/201708
https://www.ncdc.noaa.gov/sotc/national/201706
https://www.ncdc.noaa.gov/sotc/national/201707
https://www.ncdc.noaa.gov/sotc/national/201708
https://www.theatlantic.com/technology/archive/2017/09/hurricane-harvey-deformed-the-earths-crust-around-houston/538866/
http://wapo.st/2x9O7j5
Credits:
Monthly state of the climate reports are available from NOAA National Centers for Environmental Information (NCEI) Climate Global Analysis and National Overview at https://www.ncdc.noaa.gov/sotc/