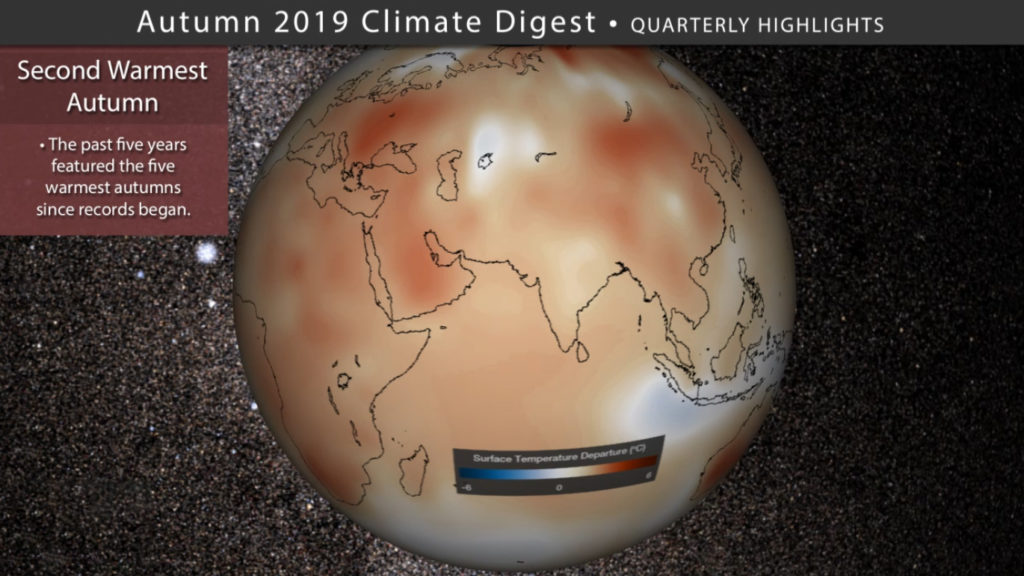 As a reminder, autumn in the Northern Hemisphere is spring in the Southern Hemisphere. But except for the notable cool temperatures over parts of North America, it was warmer than normal worldwide. In fact, global land and ocean surface temperatures for September-November 2019 was the second warmest in the 140-year record. The ten warmest September–November periods have occurred since 2005, and the five warmest autumns in the last five years. If you separate out land or ocean temperatures only, both categories rank 2nd warmest for 2019.
According to NOAA's Climate Prediction Center, neutral El Niño-Southern Oscillation patterns are expected for the Northern Hemisphere winter. This means that neither El Niño nor La Niña should influence winter weather patterns.
The 2019 Atlantic Basin Hurricane Season ended on November 30th with 18 named storms, including two Category 5 hurricanes: Dorian and Lorenzo. Hurricane Dorian reached Category 5 strength on September 1st as it made landfall on the Bahamas. Dorian later brushed the coasts of Florida, Georgia, and South Carolina before making landfall as a Category 1 hurricane in the Outer Banks of North Carolina on September 6. From there, Dorian traveled north to impact Canada and Nova Scotia. In comparison, Hurricane Lorenzo unleashed most of its fury at sea as the easternmost Category 5 Atlantic hurricane on record. Lorenzo traveled from the coast of Africa northward over the Atlantic Ocean to eventually impact Ireland as an extratropical storm with gusty winds and heavy rains.
The quarterly climate digest, produced seasonally, consists of a short movie (3:09 minutes) made for Science On a Sphere® (SOS) and an MP4 video accessible through YouTube.
You can download the SOS content from this FTP Site.
Content includes:
– Global 3-month land and ocean temperatures
– 3-month Sea Surface Temperature (SST) anomalies
– Atlantic Basin 2019 Hurricane Season recap
– Satellite imagery of Hurricane Dorian U.S.
– Global temperature outlook for Winter
References:
https://www.ncdc.noaa.gov/sotc/global/201911
https://www.ncdc.noaa.gov/sotc/tropical-cyclones/201909
https://cimss.ssec.wisc.edu/goes/blog/archives/34315

Credits:
EarthNow Team
National Oceanic and Atmospheric Administration (NOAA)
State of the climate reports are available from NOAA National Centers for Environmental Information (NCEI) Climate Global Analysis and National Overview at https://www.ncdc.noaa.gov/sotc/