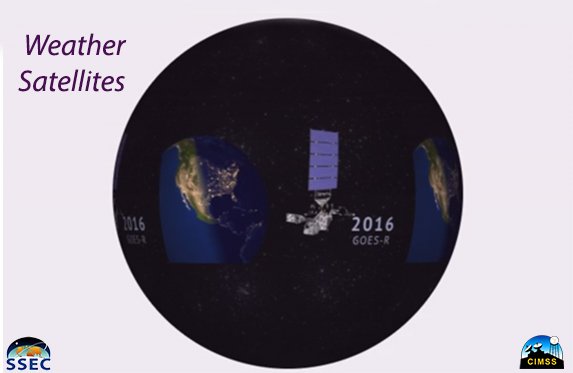 Overview
This narrated movie chronicles the history of weather satellites from the launch of the Sputnik spacecraft to NOAA's most recent GOES-R series of weather satellites.
Click on the image to watch the YouTube preview.
Along with providing a short history of weather satellites, this movie provides remote sensing fundamentals and presents successive technology developments before delving into exciting advances associated with the GOES-R satellite series.
A collaboration between the National Oceanic and Atmospheric Administration (NOAA) and the National Aeronautics and Space Administration (NASA), the GOES-R satellite series will revolutionize satellite meteorology and weather forecasting in the 21st century.
How to Use in Presentation
This video provides the foundation for any Earth orientated Science On a Sphere presentation, or may be used as a stand-alone in automated SOS programming.
Length of dataset: 6:37
Weather Satellites Script
Highlights
• Succinct and accurate history of weather satellites
• Fundamentals of remote sensing
• Description and demonstration of polar and geostationary satellite
• Introduction to GOES-R
NOAA SOS dataset
If the mp4 movie isn't in you SOS EarthNow category, you can download the SOS movie from this FTP Site.
More information on GOES-R can be found at http://www.goes-r.gov/
Additional educational resources, including lesson plans developed by middle and high school science teachers, can be found at http://cimss.ssec.wisc.edu/education/goesr/
Credits: